What is Forest School?
"Forest School is an inspirational process that offers ALL learners regular opportunities to achieve and develop confidence and self-esteem through hands-on learning experiences in a woodland or natural environment with trees. Forest School is a specialised learning approach that sits within and compliments the wider context of outdoor and woodland education." (From Forestschoolassociation.org)
When and where do we offer these sessions?
We currently offer a Forest School session twice a week on the grounds of an ex-care home just outside of the town. We are extremely lucky to have access to the private space at the bottom of the garden with an abundance of opportunities to learn in and amongst nature throughout the year.
What are the benefits?
Forest School provides so many benefits that it's hard to list them all. Not only are they getting the extended time outdoors where they can be physical but they demonstrate so many skills when left to play including team building, creative thinking and learning about the world around us. The children are always given small achievable tasks which helps build self-esteem and confidence about themselves and their abilities. There really isn't anything negative about it!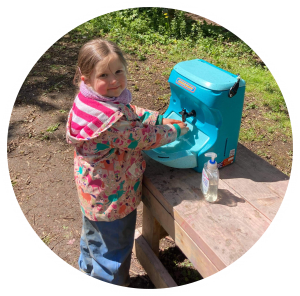 What do we do?
So many things! The children are always allowed 'free play time' where they can choose their own activities alongside other activities which are provided if they want to engage with them. These invlude minibeast hunting, den building, obstacle courses, following maps, treasure hunts, bird watching and of course building and cooking over the fire!