What is Forest School?
"Forest School is an inspirational process that offers ALL learners regular opportunities to achieve and develop confidence and self-esteem through hands-on learning experiences in a woodland or natural environment with trees. Forest School is a specialised learning approach that sits within and compliments the wider context of outdoor and woodland education." (From Forestschoolassociation.org)
When and where do we offer these sessions?
We currently offer a Forest School session twice a week, once as part of our preschool only session on a Tuesday as well as a whole day on Thursdays. On a Tuesday we venture off to local grounds from Tetbury Goods Shed and on a Thursday we spend the whole day in the beautiful grounds of Ilsom House, our local residential care home. On these days we also have the wonderful chance to go into the house  in order to share in activities with the residents and bring joy to everyone both young and (very!) old.
What are the benefits?
Forest School provides so many benefits that it's hard to list them all. Not only are they getting the extended time outdoors where they can be physical but they demonstrate so many skills when left to play including team building, creative thinking and learning about the world around us. The children are always given small achievable tasks which helps build self-esteem and confidence about themselves and their abilities. There really isn't anything negative about it!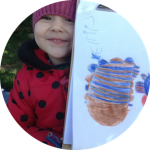 What do we do?
So many things! The children are always allowed 'free play time' where they can choose their own activities alongside other activities which are provided if they want to engage with them. These invlude minibeast hunting, den building, obstacle courses, following maps, treasure hunts, bird watching and of course building and cooking over the fire!